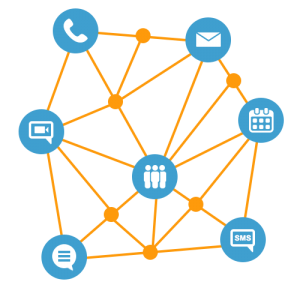 Productivity is key
We live in a fast-paced world, time is everything in business and we understand the time constraints you face daily. With our solution, you can maximize productivity using one interface for all your business tools.
Adding value to existing software
Microsoft and Google are vital to the daily running of businesses globally. Our Enterprise UC tool seamlessly integrates with both, resulting in a comprehensive platform which decreases the time you spend switching between tools.
Consolidate contacts
Schedule meetings/conference calls
Make/receive calls
Click to dial numbers
Marketing and Sales Tools
Enterprise UC gives your business the ability to integrate with your preferred sales/marketing tools.
Cloud Capabilities
Everything is now backed up in the cloud. As a result, we understand the importance of being able to save/upload and download files quickly, securely and efficiently. This is why we have ensured we integrate with leading cloud storage providers, so you can always find that important document for meetings.
Equally we can set up voicemails, calls, texts and faxes to be uploaded and secured in the cloud to give you extra peace of mind and for compliance purposes if applicable.
Connect to the Cloud and grow your business
DYNAMIX IS YOUR

 COMMUNICATION SOLUTION